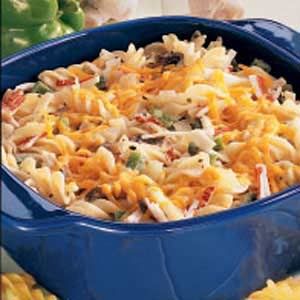 This is my modified version of this recipe. I added/deleted some ingredients and increased the amount of pasta to get more meals out of it. I got the original recipe from allrecipes.com
I tried it once it had cooled, but I think this is going to be delicious when we make it tomorrow night. I will update once we've tried the finished product. It looks sooo good. I will also update w/ a photo of my version. The picture gives the gist of it, but they used spiral pasta.
Prep Time
: 20-30 minutes
Cook Time
: 60 minutes
Servings
: 8-10 (I pre-made dinner for later in the week and froze 3 casserole dishes of this)
INGREDIENTS
:
16 oz uncooked seashell pasta (equal to 2 one lb bags)
1 large onion, chopped
1/2 lb fresh mushrooms, sliced
1 chopped green pepper
2 garlic cloves, minced (I used about 2 tablespoons of jarred minced garlic.
1/2 cup butter (I used margarine)
1 large package of imitation crabmeat, chopped
1 can, Alaskan salmon (Costco has some really great stuff--it's in the white can)
3/4 cup light sour cream
2 tsps salt (I didn't use because I don't like to salt things.)
1-1/2 tsp dried basil
1-1/2 cup (6 oz) shredded cheddar cheese (I don't measure cheese. I just sprinkle and go.)
DIRECTIONS
:
1. Cook pasta according to package directions. (If you're only freezing it, I'd cook it until it's still a little firm.)
2. While pasta cooks, heat a small amount of butter in a skillet and saute onions, mushrooms, green pepper and garlic until onions are translucent and peppers are tender crisp. Remove skillet from the heat.
3. Drain pasta, then add to vegetable mixture in pot. Stir in the crab, salmon, butter, sour cream, salt and basil.
FREEZER INSTRUCTIONS
:
Divide evenly in baking dishes (I use Dollar Tree foil containers, except for if I'm making it to bake that night or the next). Sprinkle cheese on each. Put foil container in gallon freezer bag and freeze.
On cooking day: Thaw in the refrigerator overnight. Remove from the refrigerator about 30 minutes before you want to bake it. Cover with tin foil and bake at 350° for 55-60 minutes or until heated throughout.